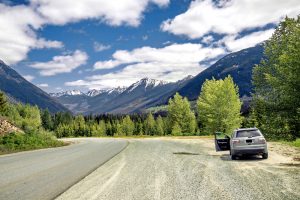 Car a/c services are vital. The summer months in BC are long, hot, and dry, and keeping cool anyway possible is very beneficial for BC residents. Being mindful of drinking lots of water and staying hydrated is a good way to not let the heat of summer in BC get you to heated. Another way to beat the heat in BC is to ensure that your car has working a/c. Nobody likes to be stuck in a car in traffic in the dead of summer without the air conditioning in their car blowing nice and cold. If your car isn't blowing cold air for you anymore, then you need to consider getting car a/c services from Kool Air King. Proudly servicing residents around BC, Kool Air King can provide car air conditioning service for your broken radiator, and we can come to you wherever you are to repair it! Spring is fastly approaching, and summer is just around the corner, so if your car's a/c is not working, you should consider Kool Air King's car a/c services today.
Servicing residents in BC from areas like Abbotsford, Aldergrove, Burnaby, Coquitlam, Chilliwack, Delta, Langley, Mission, New Westminster, North Vancouver, Port Coquitlam, Port Moody, Richmond, Surrey, Vancouver, Walnut Grove, West Vancouver, and Whiterock.
If you are a heavy a/c user in your car during the summer months, you may want to make sure that your car's a/c system is working like it should, and if it's not, Kool Air King can help! Our mobile car a/c service can come to you wherever you are, and make the repairs necessary to make sure that your car is blowing cold air just in time for warmer weather.
Why should I get car a/c services from Kool Air King?
To ensure all components are working correctly:
Through not using your air conditioner in your car for the winter months, the seals can dry up and become inactive. When you get your car serviced at a mechanic or your manufacturer, they will only test to see if your a/c is working and not that all components are in working condition. Components like making sure your system is full of refrigerant, that there are no leaks, the pressures are correct with the system, and that the hoses, seals, and pipes are in full working order. If any of these components in your car's a/c system are broken or damaged, it can your air conditioning to fail in your vehicle. Kool Air King's car a/c service will be able to locate these issues and fix them in a timely fashion, so that you can be on your way with ice cold a/c just in time for the summer!
If you are living in BC and you are looking for car a/c services to repair your broken air conditioning, then you you call Kool Air King today! If you would like more information about Kool Air King and our mobile car a/c service, please feel free to continue browsing our website, or you can contact us via email by filling out our contact form, or by phone at 1-877-388-5665 for further inquiries.